Regular price
$1,105.00 USD
Regular price
$1,105.00 USD
Sale price
$1,105.00 USD
Unit price
per
Sale
Sold out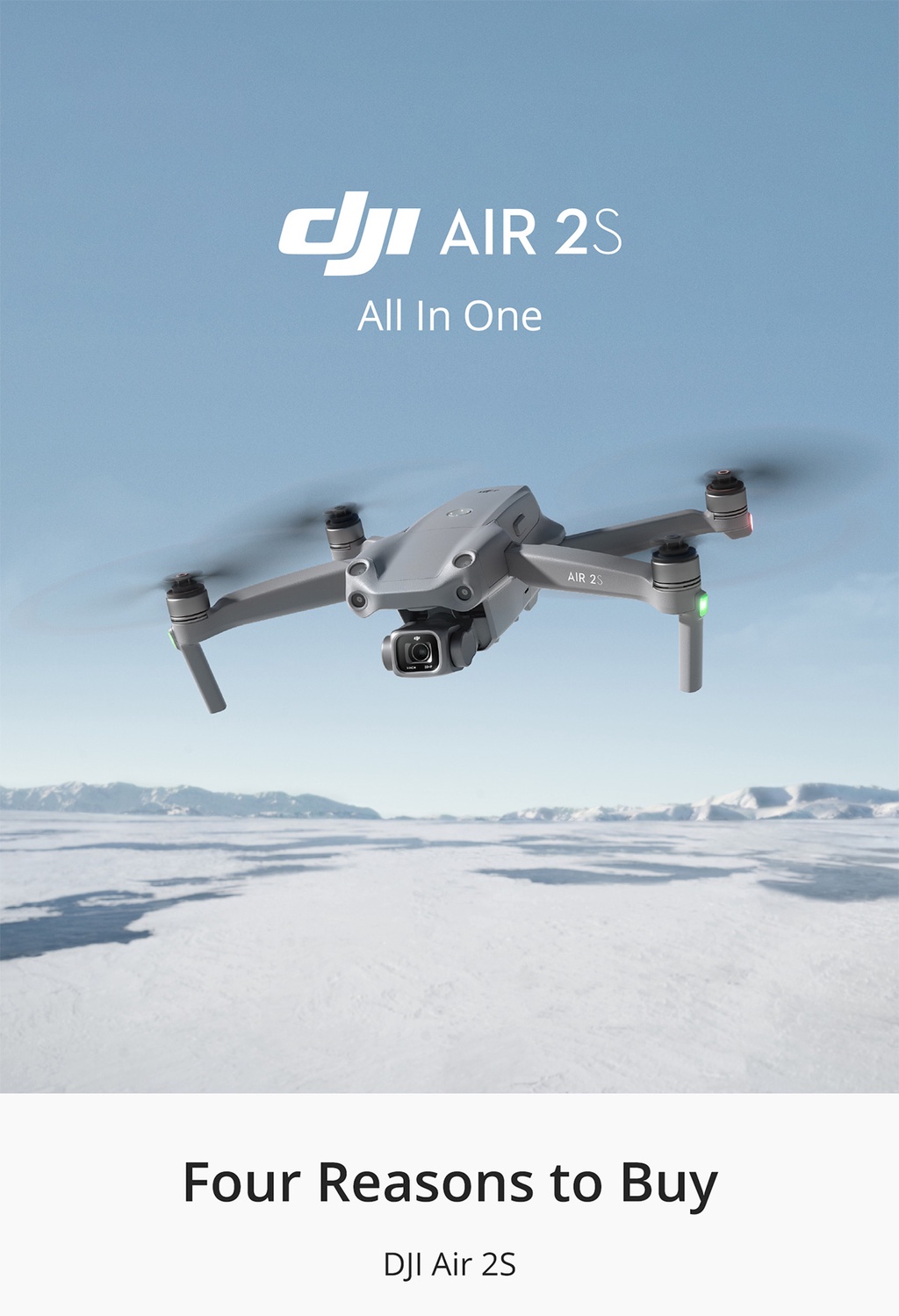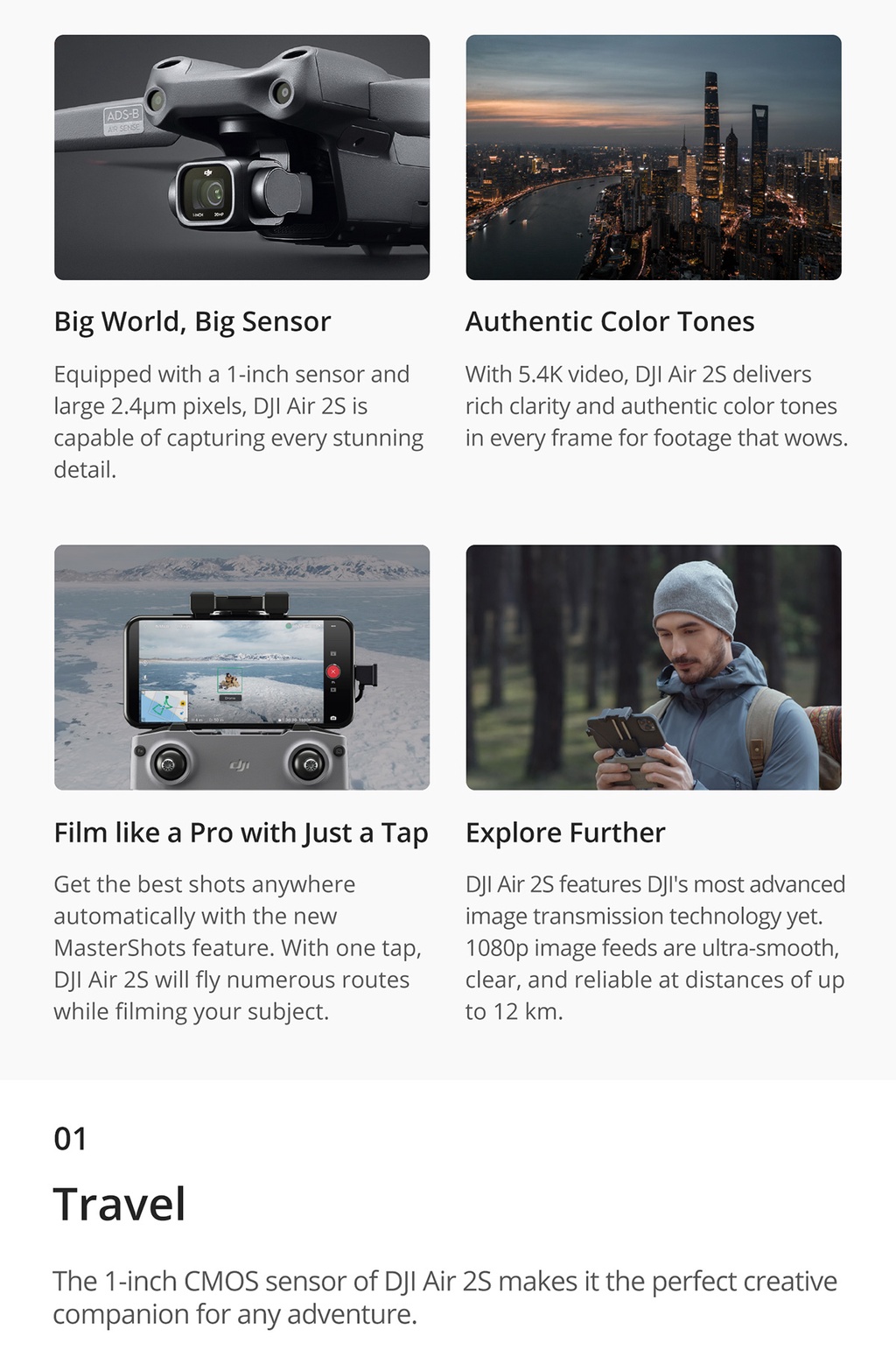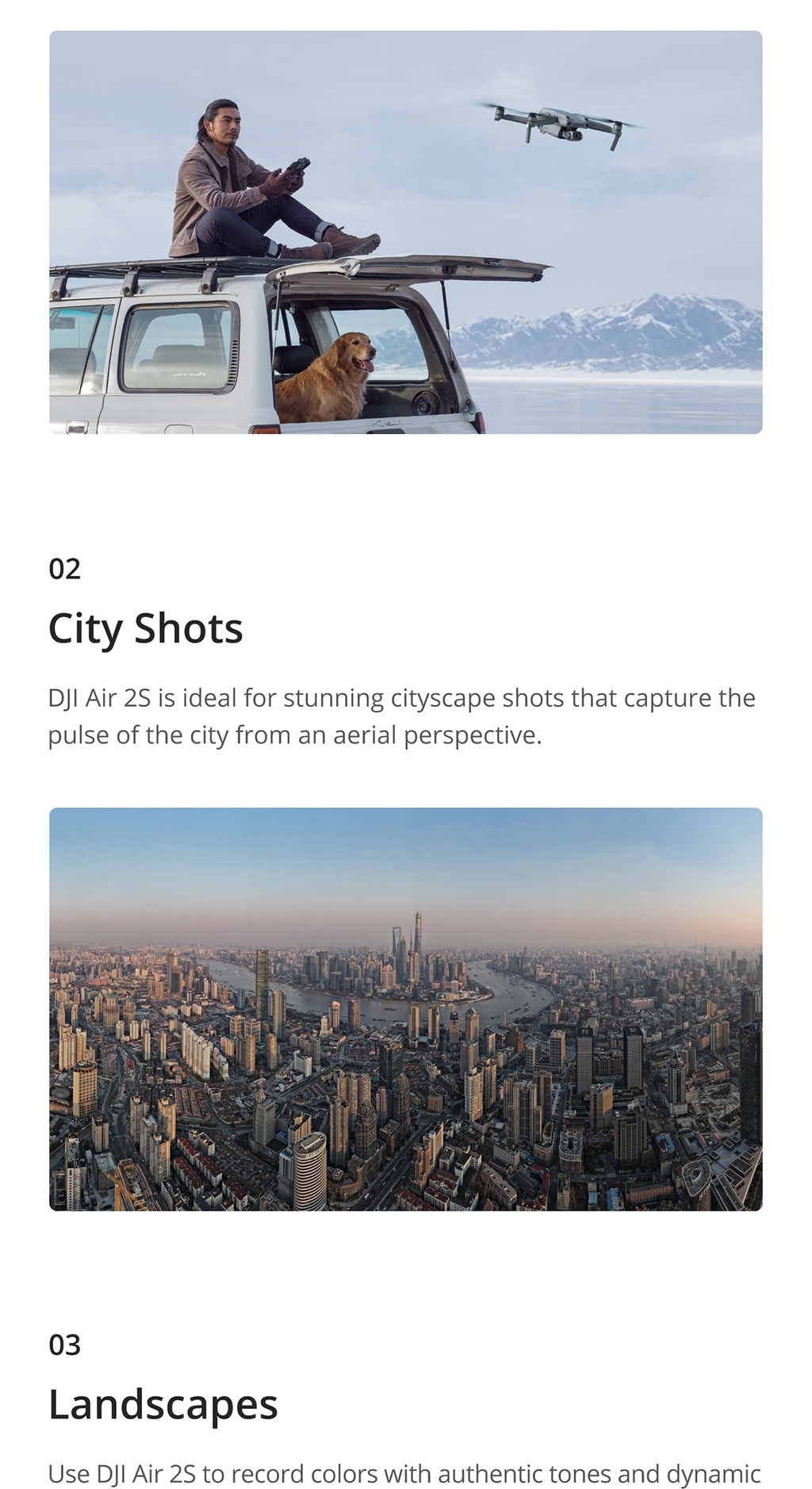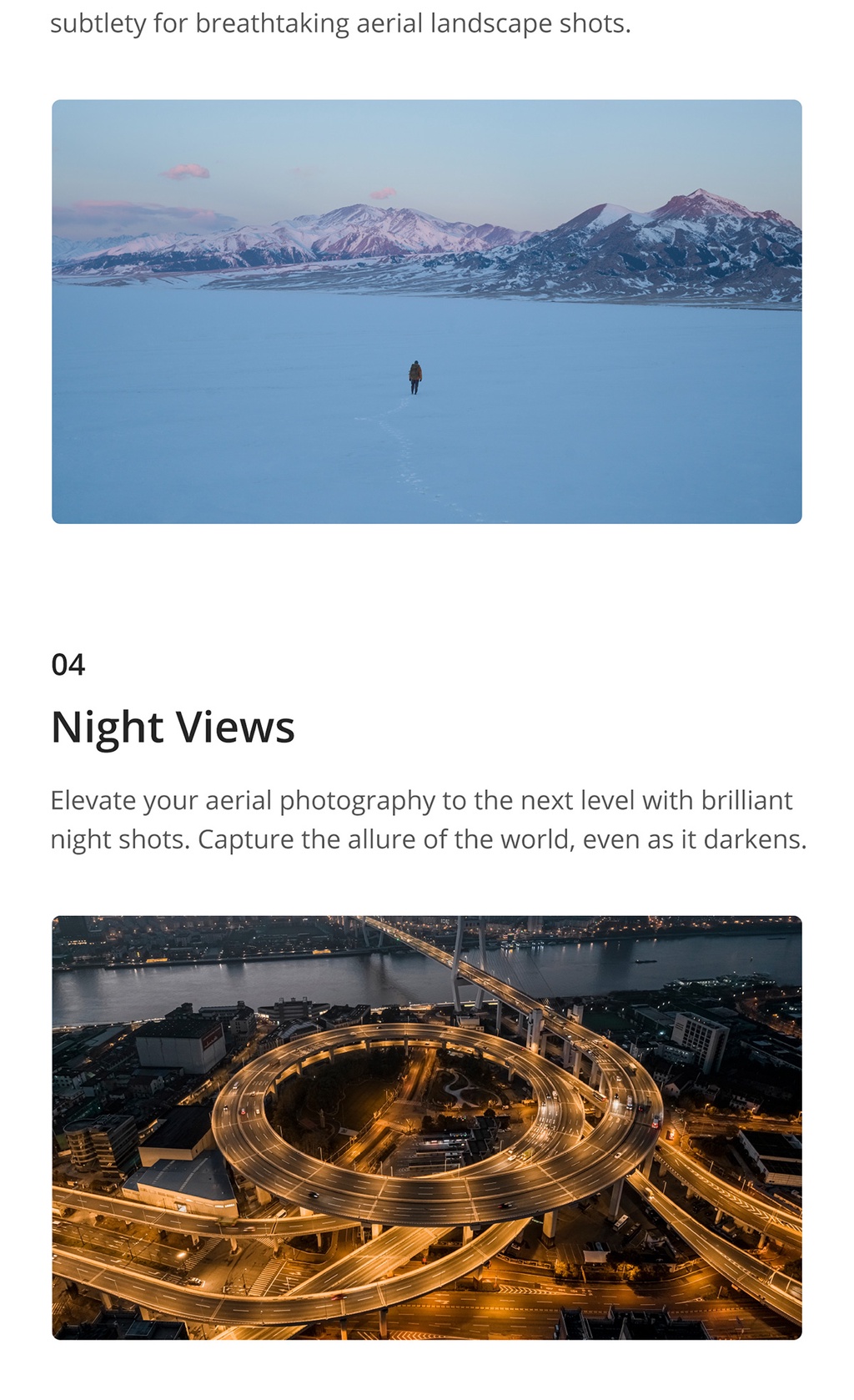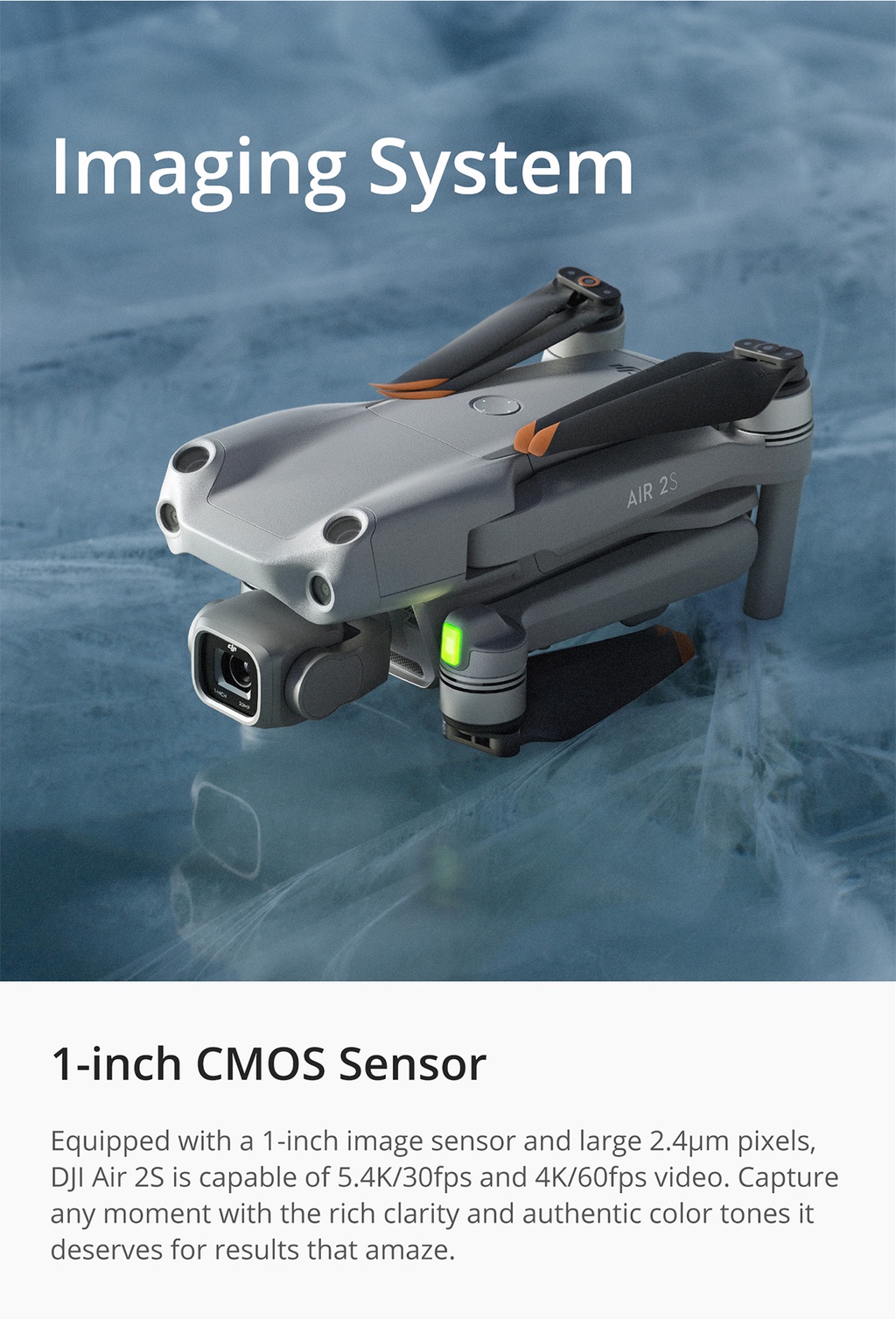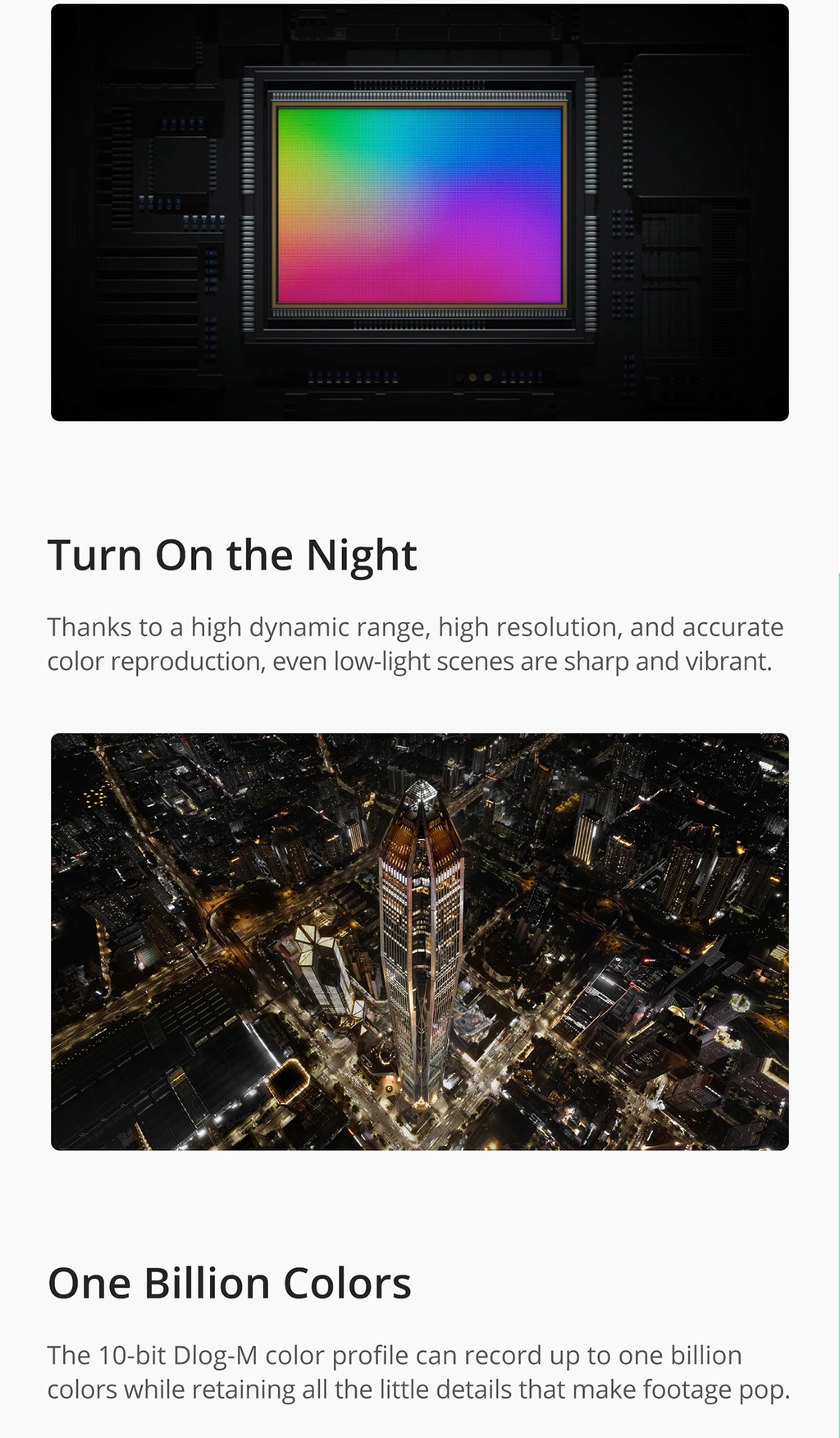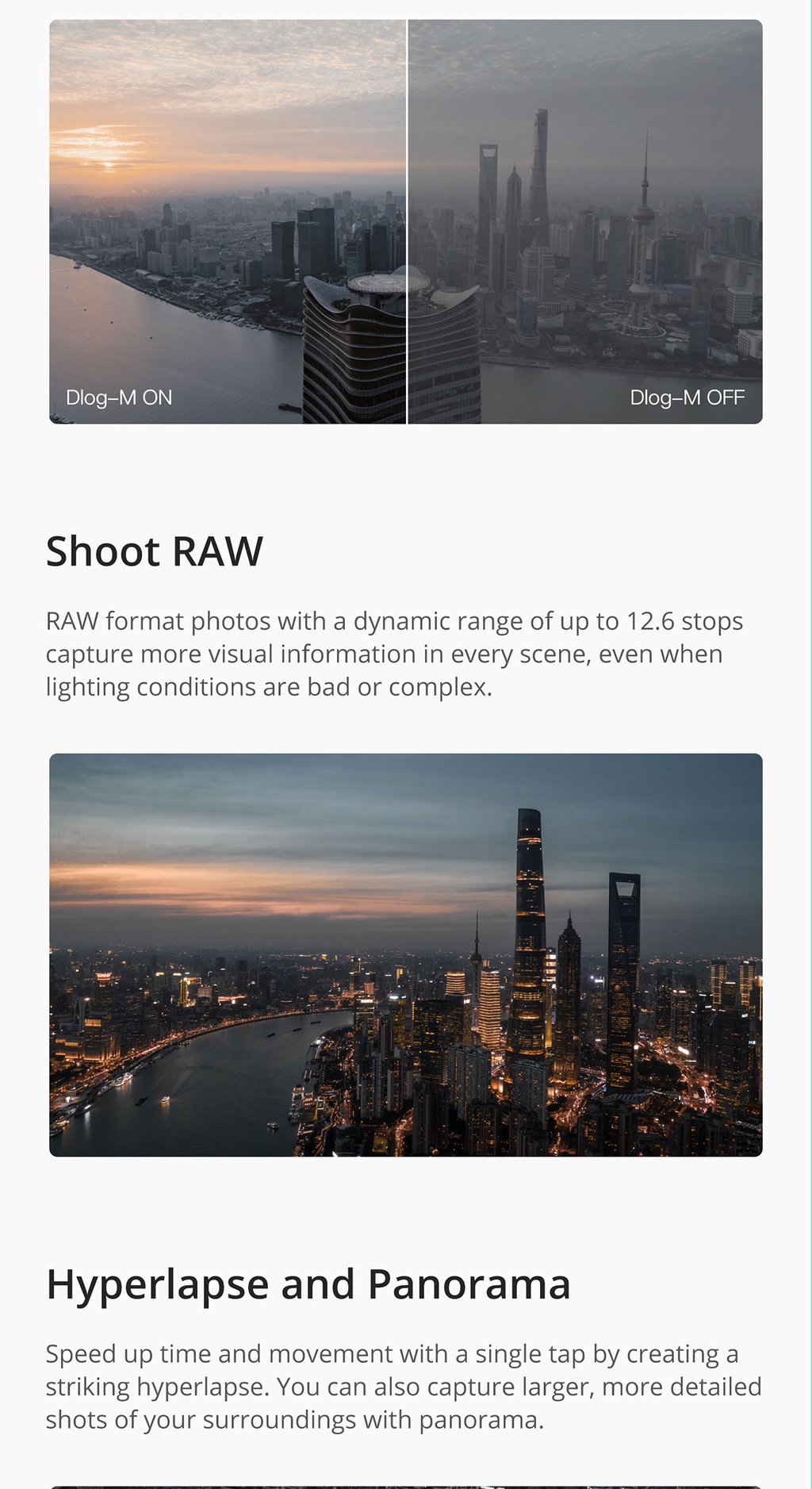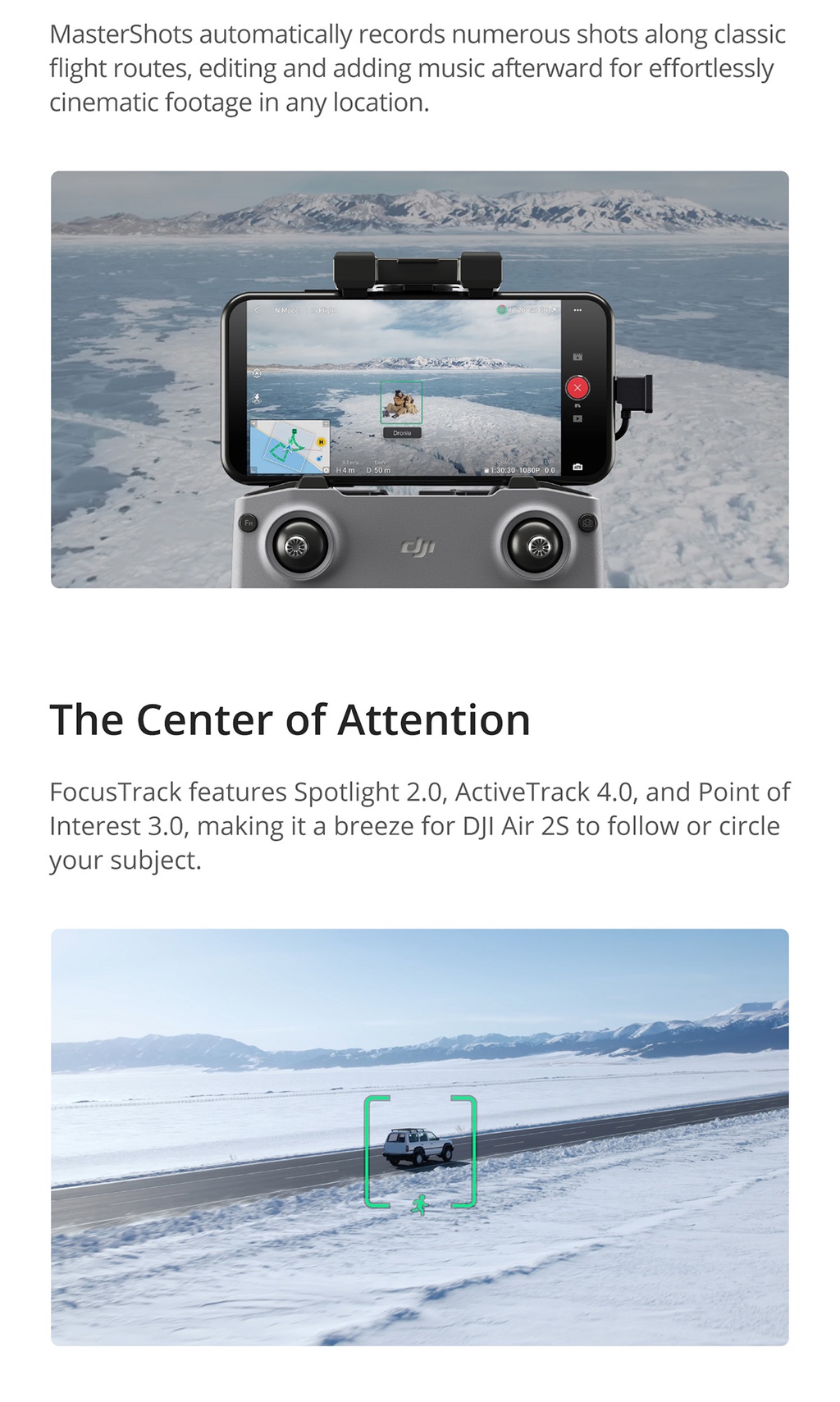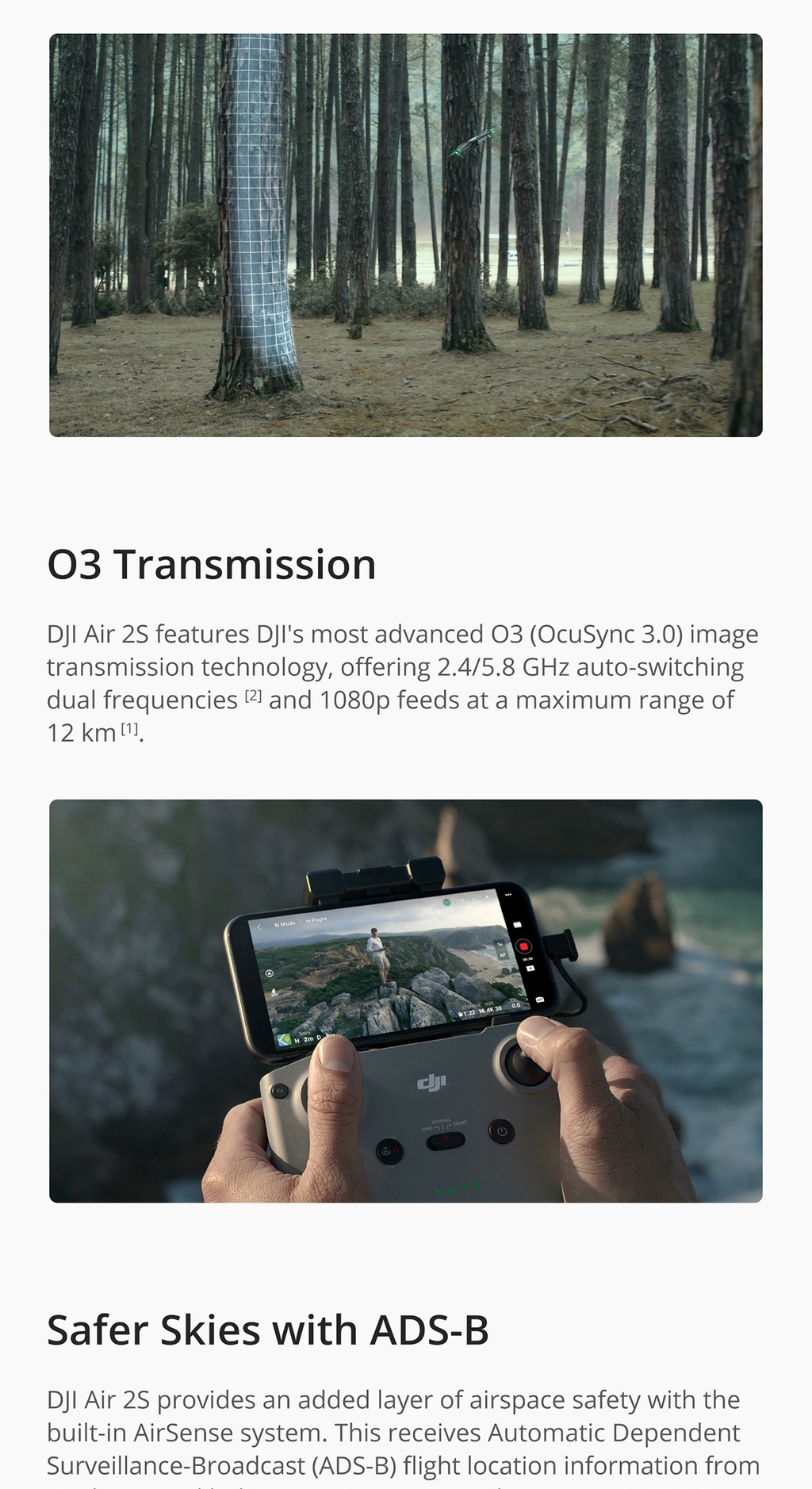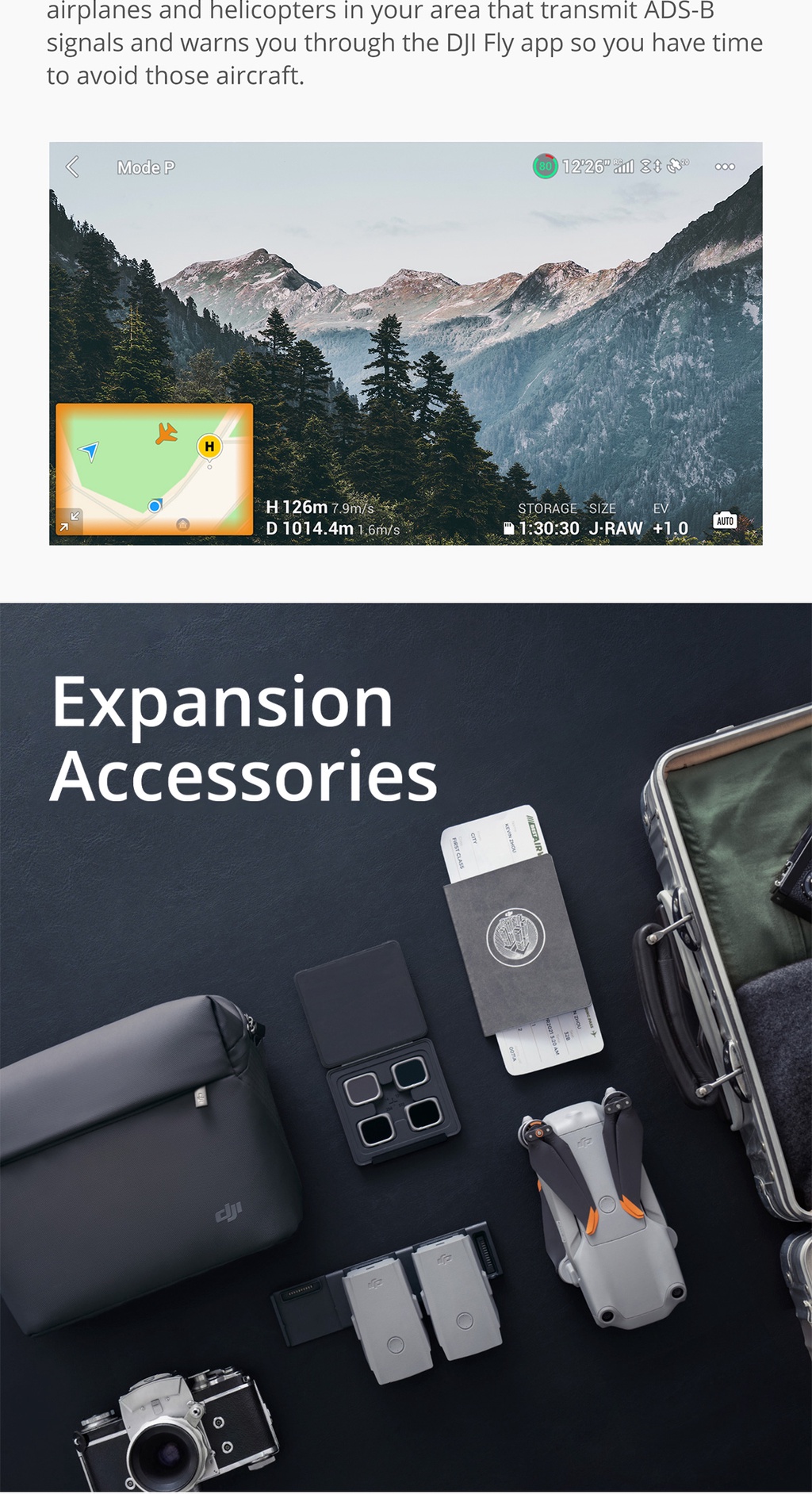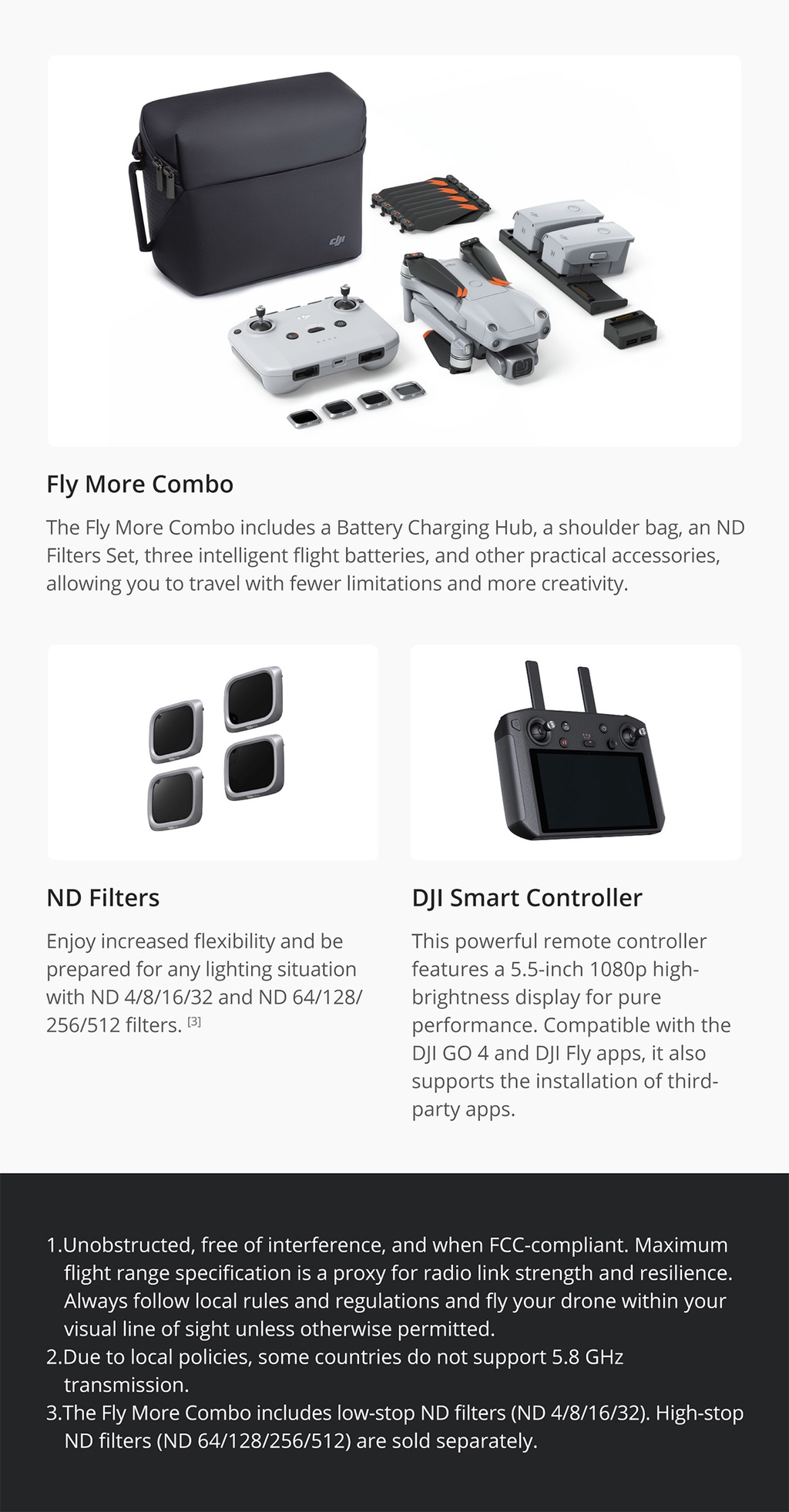 Featuring a 1-inch CMOS sensor, powerful autonomous functions, and a compact body weighing less than 600 g, DJI Air 2S is the ultimate drone for aerial photographers on the move. Take this all-in-one aerial powerhouse along anywhere to experience and record your world in stunning detail. FocusTrack features Spotlight 2.0, ActiveTrack 4.0, and Point of Interest 3.0, making it a breeze for DJI Air 2S to follow or circle your subject.
*Spotlight 2.0*
-The camera stays centered on a subject as you fly in a spiral or take close-up shots. The zoom function also enables clear shots at a distance for increased safety.
*Point of Interest 3.0*
-Easily take a perfect circle shot while keeping your subject centered.
*ActiveTrack 4.0*
-Follow your subject smoothly while autonomously avoiding obstacles. Even if the subject is momentarily lost, you can quickly resume tracking during flight.
Supported SD Cards:
UHS-I Speed Class 3 or above is required
Capacity: 64GB/128GB/256GB
Recommended microSD Cards: SanDisk Extreme, SanDisk Extreme Pro
Features:
*1-inch CMOS Sensor*
Equipped with a 1-inch image sensor and large 2.4μm pixels, DJI Air 2S is capable of 5.4K/30fps and 4K/60fps video. Capture any moment with the rich clarity and authentic color tones it deserves for results that amaze.
*MasterShots*
The next evolution of QuickShots, MasterShots is an advanced autonomous feature that gives users the best shots in any location with just a tap. Simply select your subject, and the drone will film while executing ten different maneuvers in sequence, keeping your subject center-frame and generating a short cinematic video afterward
*5.4K Video*
DJI Air 2S is capable of 5.4K/30fps and 4K/60fps video.
*12km FHD Transmission*
DJI Air 2S features DJI's most advanced O3 (OcuSync 3.0) image transmission technology, delivering an ultra-smooth, clear, and reliable image feed everytime you fly.
*Obstacle Sensing in 4 Directions*
DJI Air 2S has the ability to perceive its environment in four directions: up, down, forward, and backward. The algorithms for Advanced Pilot Assistance System (APAS 4.0) have been further improved, allowing DJI Air 2S to authonomously avoid obstacles in more complex scenarios and at high speeds.
*Safer Skies with ADS-B*
DJI Air 2S provides an added layer of airspace safety with the industry-leading AirSense safety system. This receives Automatic Dependent Surveillance-Broadcast (ADS-B) flight location information from airplanes and helicopters in your area that transmit ADS-B signals, displays those aircraft on a map, and provides audio and visual alerts through the DJI Fly app to help you keep the drone out of the way of those aircraft.
What's in the box:
*DJI AIR 2S*
-Aircraft x1
-DJI RC-N1 Remote Controller x1
-Intelligent Flight Battery x1
-Battery Charger x1
-AC Power Cable x1
-Low-Noise Propellers (Pair) x3
-Gimbal Protector x1
-Type-C Cable x1
-DJI RC-N1 RC Cable (USB Type-C Connector) x1
-DJI RC-N1 RC Cable (Lightning Connector) x1
-DJI RC-N1 RC Cable (Standard Micro-USB Connector) x1
-Spare DJI RC-N1 Control Sticks (Pair) x1
*DJI AIR 2S Fly More Combo*
-Aircraft × 1
-DJI RC-N1 Remote Controller × 1
-Intelligent Flight Battery × 3
-Battery Charger × 1
-AC Power Cable × 1
-Low-Noise Propellers (Pair) × 6
-Gimbal Protector × 1
-Type-C Cable × 1
-RC Cable (USB Type-C Connector) × 1
-RC Cable (Lightning Connector) × 1
-RC Cable (Standard Micro-USB Connector) × 1
-Spare DJI RC-N1 Control Sticks (Pair) × 1
-ND Filters Set (ND4/8/16/32) × 1
-Battery Charging Hub × 1
-Battery to Power Bank Adaptor × 1
-Shoulder Bag × 1
*DJI AIR 2S Fly More Combo (Smart Controller)*
DJI AIR 2S Fly More Combo set with Smart Controller
*DJI AIR 2S Fly More Combo (RC Pro Controller)*
DJI AIR 2S Fly More Combo set with RC Pro Controller
NOTE:
- Smart Controller is compatible with Mini 2, Air 2, Air 2S, Mavic 2, Phantom 4 Pro V2
- RC Pro is only compatible with Air 2S and Mavic 3
Share
View full details